Ocho Rios
Open Daily 8:30 am - 5 pm

Tel:876-974-2857
Fax:876-974-5197

US$ 10.00 Adults
US$ 8.00 Children
Rates subject to change.
Child: Ages 2 - 11 years
Dunn's River Falls is one of Jamaica's national treasures and a MUST VIST attraction. You should organize with your driver the best time to visit as a cruise ship day/time could be very busy. There are few places where the Arawak name "Xayamaca" - land of rivers and springs - is more apt. The Spaniards called the area "Las Chorreras", the waterfalls or springs and it is truly one of the most beautiful spots on the island.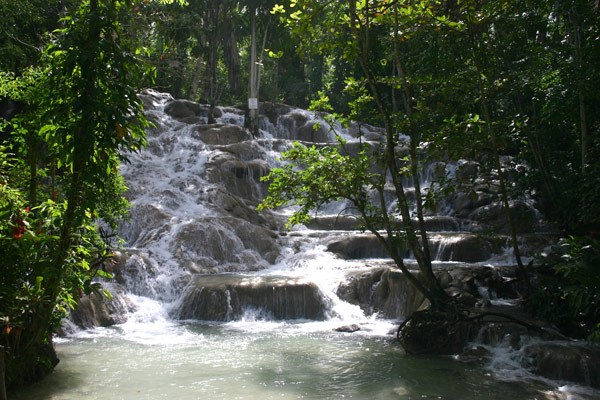 A stone's throw from Ocho Rios, one of Jamaica's fastest growing resorts, Dunn's River Falls is unique. Described as a living and growing phenomenon, it continuously regenerates itself from deposits of travertine rock, the result of precipitation of calcium carbonate from the river, as it flows over the falls. The small dome-shaped cataracts are usually associated with thermal spring activity found in limestone caves. This, combined with its location near to the sea, gives Dunn's River the distinction of being the only one of its kind in the Caribbean, if not the world.

, representing only quality Jamaica villa accommodations for Montego Bay (including Spring Farm, Tryall and Round Hill, Great River), Silver Sands, Discovery Bay, Runaway Bay, Ocho Rios, Oracabessa, Port Antonio, Whitehouse, Bluefields Bay, Negril and Treasure Beach. All Jamaican villas are fully staffed and rates include local taxes except where noted.