Doctor's Cave Beach
Founded in 1906, Doctor's Cave Bathing Club is nestled between the Marine Park and the Hip Strip. The translucent water is known for its mineral content and our world-famous white-sand beach is clean and inviting. More than just a great beach, the food court and beach bar at Doctor's Cave provide a variety of meals and drinks to satisfy the taste buds. Our convenient cyber cafe keeps you in touch with the world. Check out their web link at: Doctor's Cave Bathing Club
Members of the Bathing Club can now enjoy their brand new facilities, these include: members lounge with pool table, meeting room, large verandah available for functions and parties and a fitness center. Also the clubhouse has changing rooms, showers and spa facilities including sauna and steam baths.

Doctor's Cave Bathing Club Beach
Doctor's Cave Beach allows no radios, no footballs, no vendors. Crowd is a Jamaican-Euro-American mix. The beach is large, beautiful, secure and well managed. Tiled changing rooms are immaculate and offer inside and outside showers. Water sports are available for reasonable fees and three 20' water trampolines are free. The Groovy Grouper Bar & Grill is a short walk across the sand.
Water Sports Fees: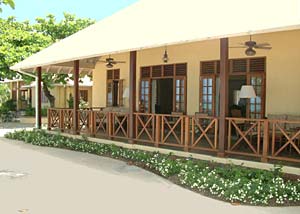 Clubhouse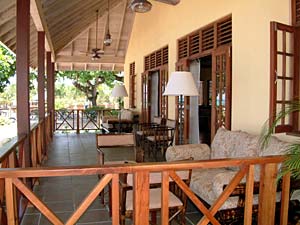 Clubhouse Verandah

Clubhouse Members Lounge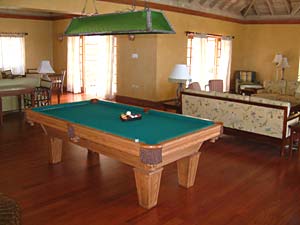 Clubhouse Pool Table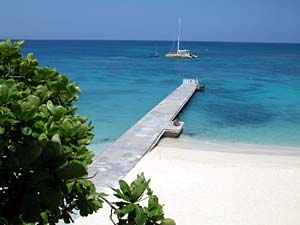 Doctors Cave pier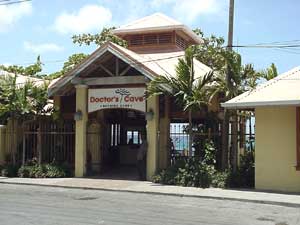 Doctors Cave Entrance
, representing only quality Jamaica villa accommodations for Montego Bay (including Spring Farm, Tryall and Round Hill, Great River), Silver Sands, Discovery Bay, Runaway Bay, Ocho Rios, Oracabessa, Port Antonio, Whitehouse, Bluefields Bay, Negril and Treasure Beach. All Jamaican villas are fully staffed and rates include local taxes except where noted.