Summerhill Villa, one of the newest villas in the Spring Farm area, is a 10,000 sq. ft, 3 story elegant, yet charming, romantic and comfortable 9 bedroom private villa. Summerhill is surrounded in lush tropical flowers, walking paths and a garden sitting area designed for meditating, moments of privacy or a garden wedding ceremony. Summerhill Villa boasts of world class Spanish inspired architecture, complete with a massive cathedral and vaulted ceiling, wood floors and a magnificent chandelier. The entrance is complimented with a grand foyer and an stairway leading to the second level. Antique furnishings, oriental rugs, treasured pieces of art and other collectibles are artistically arranged in this spacious 9 bedroom villa.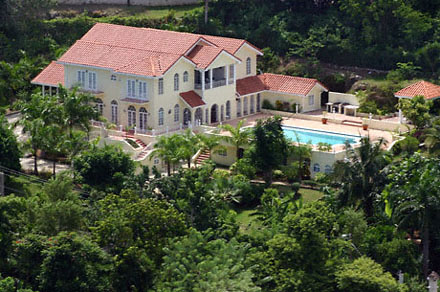 Your enchanted vacation begins when you are met by your private driver at the Montego Bay Airport. The scenic 15 minute drive will take you past several resorts , alongside the sea, through the entrance of the world-class Half Moon Golf and Country Club, winding up the hill past several beautiful homes to your private hillside holiday home. From the moment you arrive at Summerhill Villa as you enter the gates leading up the short driveway, you are welcomed with a refreshing drink as you relax from your journey.

The main level invites you to relax in the separate sitting room complete with satellite TV, VCR and DVD. In the separate library, enjoy some music on the sound system complete with CD and a selection of assorted music or read a book from the collection of classics and contemporary literature. Next to the library is the formal dinning room complete with fine china, crystal glassware and imported table linen for sit-down candlelight dinners. Next to the dining room is the huge kitchen where your cook prepares all your daily meals using only the freshest ingredients for fresh tropical fruits drinks, appetizers, homemade soups, Jamaican dishes and other meals according to your personal request.

Bedroom Configuration:

Second Level:
-Bedroom 1 "Sunrise Suite" The 20 by 25 foot master bedroom has an extra large bathroom suite, chaise lounge, wrought iron king-size bed, air-conditioning, ceiling fans, writing table and lots of space. The French doors open to a balcony with a spectacular view of the Caribbean Sea on one side and one the other side, a view of the entire property and the Half Moon Resort.
-Bedroom 2 "Safari Suite" This 16x16 foot bedroom, with nature inspired decor, has a full bathroom, king-size bed, sitting area, air-conditioning, ceiling fans, French doors and a balcony with a breathtaking view of the ocean. From the other windows, you get a full view of the pool area. Separating the other bedrooms is comfortable bright and airy sitting area with decorator tables and chairs for afternoon tea or afternoon snacks or just a small gathering area for lounging. The area flows into a large separate patio overlooking the pool area and Caribbean sea.
-Bedroom 3 "Coral Suite" This tastefully decorated 18 x18 foot bedroom has a queen size antique wood bedroom suite. It is tastefully decorated in peach and other earth-tone colors with a sitting area, huge walk-in closets, full bathroom, air-conditioning, ceiling fan, vaulted ceilings and French doors that open to the balcony to a view of the lush vegetation. The windows offer you a view of the pool area and a view of the ocean.
-Bedroom 4 "Nature Suite" This 18 x 18 foot bedroom with king bed, is tastefully decorated with ornate wood furniture, and has an extra large walk-in closet, large dresser, full bathroom, air-conditioning, ceiling fan, French doors with a balcony facing the tropical vines. The huge windows offer you a view of overlooking the beautiful Spring Farm area and a view to the sea

First Level:
-Bedroom 5 This bedroom (queen bed) is located on the first level and cheerfully decorated in tropical colors with love seat, large closet, two entrances, French doors opening on to the patio, with a spectacular view of the ocean, especially when the sun sets on the Caribbean Sea. This room is also perfect for guests who may not be able to climb the steps to the other bedrooms. The bedroom is air-conditioned.
-Bedrooms 6 and 7 These two bedrooms are located on the 1st level adjacent to the enclosed patio area. Each bedroom has its own bathroom. One room has a view of the garden area and the other has a view of the pool area and the ocean. Both bedrooms are fully air-conditioned.

Ground Level:
-Bedrooms 8 and 9 " Hideaway Suite" For a private getaway, a luxurious 2 bedroom (king beds) air-conditioned suite is located on the ground level. Fine Italian granite and marble, parquet floors, Jacuzzi Bath, kitchenette and private verandah appoint this suite. Guests can choose to have their meals served in the main dining area or within the suite. This delightful area is the perfect hideaway for honeymooners.


The outdoor spaces are focused on the very large fresh water pool (25 x 45 ft) surrounded by a large spacious pool deck and lounge chairs, tables and umbrellas. There are two BBQ's with counter space on the south side of the pool.



The villa has a resort membership at the nearby exclusive Half Moon Resort, including beach and tennis (golf additional). Golfers will find some of the finest golf courses in Jamaica within minutes of the front door: The Half Moon Resort course with its world-famous 18th hole, the recently redesigned Rose Hall Cinnamon Hill, and the spectacular new Ritz-Carlton White Witch.

Summerhill is fully staffed with butler, chef, housekeepers, laundress, poolman and gardeners.

All meals are served by your butler. Breakfast and less formal meals are usually served on the covered patio adjacent to the kitchen. The patio area has a full service bar, perfect for evening cocktails or other family gatherings and fun. The patio leads out to the outdoor entertainment area enhanced by the large oval shaped sparkling swimming pool and very large pool deck complete with tables and comfortable lounge chairs. Freshly cooked jerk chicken and other barbecue or grilled specialties can be prepared for you on the built-in grill for meals under the outdoor gazebo. Romantic evenings by the poolside, the panoramic view of the Caribbean sea and the clear skies so abundant with stars promises to make your stay at Summerhill Villa your most memorable vacation.


Villa Amenities:
9-bedroom/9-bathroom private villa
Fresh water pool
Satellite televisions, VCR and sound system with CD player
Air conditioning & ceiling fans in bedrooms
Air conditioned dining room
2 cell phones for guests' use
Computer and internet access
Beach and Tennis membership (golf additional) at the exclusive Half Moon Resort a short 5 minute drive from the villa. See all the details
Short drive to Half Moon Bay Club, the new Ritz Carlton and Rose Hall Resort and Country Club (about 5 minutes)

, representing only quality Jamaica villa accommodations for (including Spring Farm, Tryall and Round Hill, Great River), Silver Sands, Discovery Bay, Runaway Bay, Ocho Rios, Oracabessa, Port Antonio, Whitehouse, Bluefields Bay, Negril and . All Jamaican villas are fully staffed and rates include local taxes except where noted.