Prospect Plantation - Ocho Rios Jamaica
Prospect Plantation is a working Jamaican agricultural property where you can see bananas, cassava, sugarcane, coffee, allspice and many other crops. As your tractor drawn Jitney travels through Prospect your guide will delight you with stories of the colourful history of the estate. It combines the opportunity to enjoy an educational, relaxing and enjoyable trip to one of Jamaica's oldest plantation.
You will see the magnificent White River Gorge. A spectacular view. Jamaica's first hydro-electric power station was built here by Sir Harold Mitchell.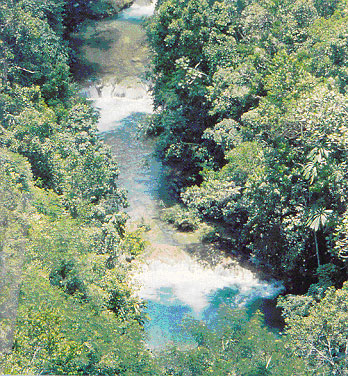 At Sir Harold's Viewpoint the Jitney stops for you to enjoy a cool refreshing drink. From this viewpoint, the island's north coast and the probable site of Columbus' first view of the island can be seen. On a clear day, Cuba, some 90 miles away to the north, is visible on the horizon. The channel between the two islands was known as the Spanish Main by buccaneers because it was the main route taken by ships en route to Spain from Central America.
At your next stop you will be amazed to see Donald climb a 30 foot coconut tree to demonstrate how to harvest coconuts. Taste the fresh coconut water and sample some local fruit as your guide explains the unusual uses of the region's plants and flowers.
On your ride you will pass the Great House at Prospect, built in the early 18th century. It is fortified with loopholes against raids by privateers and buccaneers.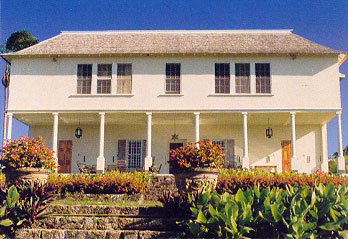 Prospect has played host to a number of important visitors, including Their Royal Highnesses, The Grand Duke and Grand Duchess of Luxembourg, Prince Phillip and Prince Edward, Sir Winston Churchill, Mr. Pierre Trudeau, Dr. Henry Kissinger, Sir Noel Coward and Ian Fleming. These were frequent guests who planted trees to commemorate their visits. Jamaica was to give Ian Fleming, creator of James Bond, inspiration for many of his novels.
Tree Planting
Plant a tree at Prospect to commemorate your visit and you will join our famous visitors who have already done so. A sign will be placed on your tree which will be maintained for the life of the tree. Just ask at the tour desk or your guide.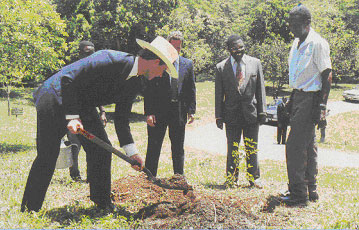 Stretch your legs and walk around Prospect Chapel. It is a place of worship for the students from Prospect College and is constructed of stone and wood cut from the property.
Horseback Riding
There are three varied trails on 900 scenic acres. Rides vary from 1 hour to 2 1/4 hours. All tours are led by an experienced and informed guide. Please callI hour in advance for reservations. (876-994-1058)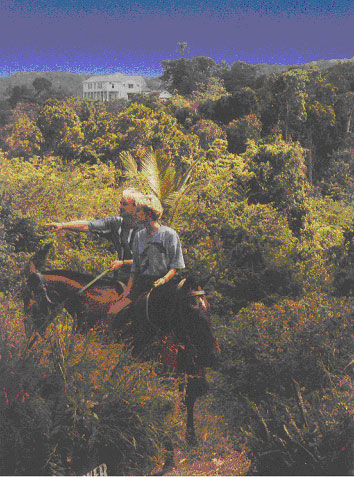 View Jamaica
This trail offers spectacular bird's eye views of the White River and passes through lime and citrus groves. The return route presents varied and picturesque views of the mountainous and wooded landscape. Approximately 2 1/4 hours.
Variety Prospect
On this trail the wide variety of Prospect's flora and fauna is seen everywhere. The rider will see many Jamaican trees, including mahogany, blue mahoe, guango and dwarf coconut. Approximately 1 hour long.
White River Gorge
This spectacular trail passes through primeval forest land descend- ing to the White River. Here it tnnges the rushing stream with its series of rapids and pools - an unforgettable sight. Approximately 1 1/2 hours long.
Prospect College is a unique educational establishment in Jamaica. Privately endowed by the Mitchell family, it accepts students from all parts of the island. Students, aged 14, are accepted for a three year period on full scholarship. Each boy is trained to read music and become a member of the college band. The band has appeared all over Jamaica and won numerous competitions. The boys are provided with discipline and education to help serve the needs of Jamaica and given an opportunity to qualify as capable and educated citizens who can be involved in shaping the future of the country.