Jamaican Callaloo and Saltfish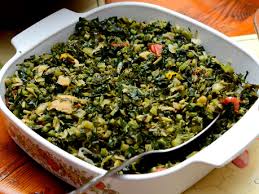 Ingredients:
4 ounces salt cod
1/2 pound callaloo, washed and chopped
4 slices bacon, cut in 1/2" slices
1 small onion, chopped
1 teaspoon garlic, minced
1 small ripe tomato, coarsely chopped
2 sprigs fresh thyme
1 Scotch Bonnet chili or Habanero, flesh only no seeds or membrane
3 scallions, coarsely chopped
salt, to taste
freshly ground black pepper, to taste
Serves 4
Preparation Time :0:15 minutes
Total Time :1:30 minutes
Soak the cod in hot water for at least an hour; changing the water at least once, to get rid of the excess salt. Drain the fish and tear into bite-sized pieces.
Saute the bacon over medium-low heat until the fat is rendered. Add the onion and continue to cook until onion is translucent. Add the garlic and cook one minute more. Add the tomatoes and Scotch Bonnet and cook another two minutes. Add the callaloo and 1/4 cup water and continue cooking until the callaloo stems are almost cooked, then add the scallions and cook until callaloo is tender.
Taste for salt. Transfer callaloo to a serving dish and top with freshly ground black pepper, Serve hot with boiled green bananas or Johnny Cakes.