Bully Beef a Jamaican Breakfast specialty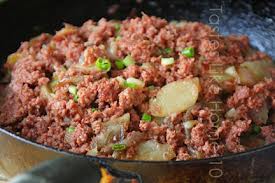 Ingrediants:
1 can corned beef
1 medium onion—sliced
2 stalks scallion—chopped
2 sprigs fresh thyme
1 medium ripe tomato—chopped
1 habanero chili (scotch bonnet)—seeded and chopped
1 tablespoon vegetable oil
Serves 4
Preparation Time :0:20 minutes
Heat oil in heavy skillet over moderate heat. Add onions, garlic and chopped scotch bonnet; sauté until onions are translucent.
Add corned beef and thyme. Reduce heat to medium-low and cook, stirring occasionally until thoroughly heated. Add scallions and chopped tomato; cook two minutes more.
Serve hot with Johnny Cakes, boiled green bananas or toast.