Jamaican Curried Baked Chicken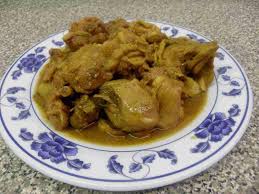 Ingredients:
5 lb. Cut-up Chicke
1/4 tsp. Ground Ginger
1 tsp. Garlic Powder
1 tsp. Onion Powder
1 tsp. Paprika
2 Tbl. Curry Powder
8 ounces Melted Butter
2 small Onions - sliced
Salt & Pepper - to taste
Rub chicken with salt and pepper.

Combine melted butter, ginger, garlic powder, onion powder, paprika and curry powder.

Set chicken pieces in shallow roasting pan and thoroughly baste on all sides with the butter mixture. Bake with skin sides down at 375 degrees for about 20 minutes. Turn chicken pieces over and continue baking 20 minutes more.

Pour juices from roasting pan into a small saucepan. Add sliced onion and simmer gently over low heat.

Place chicken under broiler until brown, spooning some of the sauce over chicken from time to time. Pour the rest of the sauce over chicken and serve immediately.