Jamaican Pork Pot Roast from Delma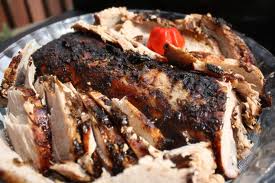 Ingredients
5 to 6 lb. pork shoulder or leg.
1 Tbl. fresh thyme leaves
4 cloves garlic
2 stalks scallion
1 scotch bonnet pepper - seeded and de-ribbed
salt and pepper to taste
2 Tbl. soy sauce
This delicious and spicy pot roast was prepared for us at Jasmin Hill by our cook Delma on March 4, 1997. This recipe makes 10 to 12 generous servings.
Score the meat with a sharp knife, and make several inch deep pockets in the meat.

Finely chop together the thyme, garlic, scallions, scotch bonnet and add salt and pepper to the mixture. Stuff a small amount of the mixture into each pocket in the pork, and rub pork with any left over spices. Rub pork with soy sauce, cover loosely with foil or plastic wrap, and marinate overnight.

Bring the pork to room temperature before cooking.

Over medium-high temperature, heat 2 tablespoons vegetable oil in a heavy pot, large enough to comfortably hold the pork and allow easy turning of the meat as it browns. Brown the meat thoroughly on all sides.
Add 1/2 cup water; reduce heat to medium, and cover. Turn pork every 15 minutes, adding 1/2 cup of water, and piercing with a fork each time. Continue cooking for about one hour, check with an instant meat thermometer, temperature at center of pork should read 170 degrees when done.

Remove pork from pot; cover with foil.

To make gravy: skim fat from pot, add 1 cup sliced onions, 1 sliced green pepper. Cook until just translucent. Add 2 tablespoons ketchup, 1 tablespoon Pickapepper sauce, 1 tsp. sugar, salt and pepper to taste.

Cut the pork into thin slices, and serve hot with gravy.

Rice and peas, carrots and cho cho (chayote) make excellent accompaniments for this dish.