Fricasseed Chicken Jamaican Style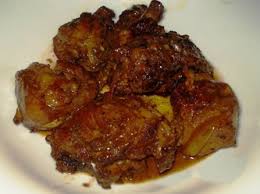 Ingredients:
1 Cut up chicken (5 - 6 lb.)
Black Pepper & Salt --to taste
2 large Onions - coarsely chopped
1/4 tsp. Powdered Ginger
3 medium Tomatoes - coarsely chopped
1/2 tsp. Ground Allspice
2 cloves Garlic -- chopped fine
1 large Onion -- sliced
1 whole Green Scotch Bonnet Pepper
Oil for frying
3 sprigs Thyme
1/2 tsp. Paprika
Serves 6
Wash chicken and dry thoroughly. Season with sliced onion, thyme, salt, pepper, powdered ginger and allspice. Cover and refrigerate for several hours or overnight, to allow the seasonings to permeate the chicken.
About an hour before cooking, remove the chicken from the refrigerator and bring to room temperature. Wipe away any of the marinade seasonings from the chicken, saving the thyme. Heat oil in a heavy skillet, and brown chicken on all sides over moderate heat. Lower heat and add chopped onions, tomatoes, garlic, salt, Scotch Bonnet pepper, paprika, and 2 Tbls. hot water. Also add sprigs of thyme saved from the marinade. Cover and simmer, adding small amount of water to prevent chicken from drying out. When chicken is fork tender, add 1 Tbl. butter if desired, and serve hot.