Jamaican Style Pork Chops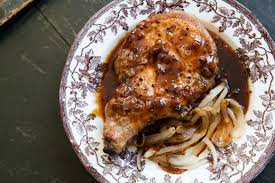 Jamaican Pork chops browned and braised, seasoned with onion, garlic, thyme, spices and hot peppers
Ingredients:
8 thin Pork Chops
1 small Tomato - chopped
2 sliced Medium Onions
2 cups Water
3 cloves Garlic - chopped
1 Scotch Bonnet Pepper (Habanero) - seeds and membranes removed and cut into quarters
1/2 tsp. Celery Salt
1 tsp. Ground Allspice
Corn Oil - for frying
2 Tbs. Soy Sauce
3 sprigs Fresh Thyme
Salt & Pepper - to taste
3 Scallions
Directions
Place the pork chops in a dish, large enough to hold them in at most two layers. Add the sliced onions, chopped garlic, celery salt, allspice, thyme, Habanero, soy sauce, salt and pepper to the pork. Thoroughly rub the seasonings into the pork, cover the dish with plastic wrap, and let marinate in the refrigerator for four hours.

An hour before you are ready to begin cooking, remove the pork from the refrigerator, and let return to room temperature.

Add just enough corn oil to cover the bottom of a large skillet, and heat over moderate heat until a drop of water sizzles when added to the skillet. Set aside the seasoning mixture. Brown the pork chops thoroughly on both sides, in two or more batches if necessary, keeping browned chops warm while the others are browning. Remove browned pork chops from skillet, and add seasoning mixture and cook until onions are translucent. Add chopped tomatoes and continue to cook two minutes. Add 1/4 cup of water and deglaze the skillet, then add the remaining water and scallions and bring to a simmer.

Return the pork chops to the skillet and simmer covered, over low heat for 30 minutes. Do not overcook the pork chops. Taste the cooking liquid for seasoning and adjust if necessary.

Remove the pork chops to a warm serving dish. Reduce the sauce over moderate heat until desired consistency is reached. Remove the scallions and thyme, and pour sauce over the pork chops and serve. Jamaican [Rice and Peas] is an excellent accompaniment to this dish.