Johnny Cakes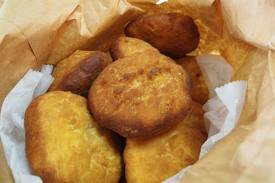 Ingredients:
2 cups flour
1 tablespoon baking powder
2 tablespoons butter or margarine
1 teaspoon salt
½ cup cold water
1 cup vegetable oil
Servings: 4
Preparation Time: 0:30
Directions:
Mix flour, salt and baking powder. Cut butter into the flour mixture until completely incorporated. Slowly add water 1 tablespoon at a time and knead with fingers until mixture forms an elastic dough. Dough should be just moist enough to hold together and form into balls, without being sticky.
Heat oil in a heavy skillet over medium-low heat until hot.
Form the dough into slightly flattened biscuits, about 2 inches across. Fry the Johnny Cakes, turning frequently, until all sides are golden brown. Adjust heat so that cakes brown evenly to a golden color without burning. Drain on paper towels.
Serve warm, with Bully Beef or Ackees.
- - - - - - - - - - - - - - - - - -
NOTES: Try altering the amount of butter to adjust texture to suit your taste. Less butter will result in chewier cakes; more will make them flakier. Also try substituting ¼ cup of cornmeal for flour.