Jamaican Rice and Peas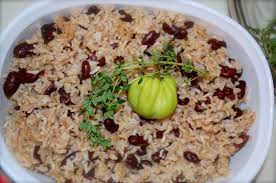 Ingredients:
1 cup Red Kidney Beans - soak beans overnight to soften
1 cup Coconut Milk, Whole Milk, or Skim Milk
4 cups Water
2 cloves Garlic - bruised
2 sprigs Fresh Thyme
2 Scallions
2 strips Bacon
1 whole Green Scotch Bonnet Pepper (Habanero)
Salt & Pepper - to taste
2 cups White Rice
(This dish is made with Red Kidney Beans, but Jamaicans call them Red Peas.)
Serves 6 to 8
Directions:
Cook soaked beans in water, coconut milk, thyme, garlic, scallion and Habanero until just tender. If you prefer, substitute whole or skim milk for the coconut milk. Add the bacon, salt and pepper. Taste for seasoning. If too spicy hot, remove the Habanero. Add rice and simmer over low heat 40 minutes until rice is tender, and liquids have been absorbed. If necessary, add more water as dish is cooking.
This dish can be made ahead and kept warm. Remove bacon, scallions and thyme before serving. Serve with Jamaican Style Pork Chops or your favorite main course.